"It's All About the Kids!"
Tournaments, Camps, Clinics & Lessons
for All Skill Levels
WHAT IS HAPPENING IN THE NCJGA WORLD!!
Executive Tour Event at Rancho Carlsbad, Sunday May 7th - tee times begin at 12:00! All ages and skill levels welcomed to compete.
Thank you to our sponsor The Carlsbad Golf Center, Stone Beacon Capital, and Taylormade Golf.
Player of the Year points for all divisions.
18 & 9 hole flights - all ages are welcome!
Next Championship Tour Event will be at Twin Oaks GC and will be a qualifier for the Optimist National Championship to be held in Palm Beach, FLA.
This is the 6 year we have hosted this national qualifier, kids and families who have attended the event just love it!! The tournament finals are held at the Bear Trap!!
SCPGA Toyota Tour Cup Exemptions - year round points for player of the Year!
Caddies and Spectators are welcome -  no caddies for the TCC Division
Sign Up as  Member - NCJGA 2017 Membership is open for boys and girls ages 7-18 all skill levels welcomed and encouraged to participate.
Our Goal is to develop the love of the game in your child by having a great experience in a fun and affordable way!
Click here for  NCJGA Calendar.
Thank You to our sponsor The Warren Neely Foundation for supporting junior golf and hosting the NCJGA event at Eagle Crest GC.
The Championship Event had 54 players competing on the tight track with 19 boys competing in the SCPGA - Toyota Tour Cup Division.
Low score was Go Nakatsukasa with a fine 72 runner up went to Matt Mehran, in third was Nikko De Castro.
The girls division saw 2 girls tie with 75's  Karen Tsuru and Crista Izuzquiza both girls split first and second place points (for the TTC) and Karen was awarded first place plaque in a back 9 card off, third place went to Irene Park shooting a 79.
Boys 14-18 went to Jared Tran 83 runner up was Matthew Tan 84.
Girls 18 hole winner was Chloe Rhodes with at 78 and second went to Mayan Gerber 81.
Boys 11-13 champion is Tony Johnson 79 - Boys 9 hole champion Reed Arnaldo 37, and girls 9 hole champion Jessica Hudson 49.
Thank You to all the players and their parent's as the game went smoothly and all the kids showed great sportsmanship while competing!
Summer Camps are coming up register online at the NCJGA site.
We post Great Pics & News in our Social Channels all the time.
Follow Us!
What Can You Expect from Your NCJGA Experience?
Click on your area of interest below to learn more.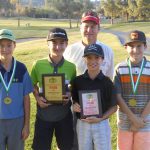 TOURNAMENTS
NCJGA has tournaments for Juniors ages 5 to 18-years-old who are at every level of play, from beginners who enjoy our Double Par +1 executive course events to Junior Golf Scoreboard 18 and 36-hole qualifiers for regional and national events.
The NCJGA also has SCPGA Toyota Tour Cup Year Long Exemptions for top 3 boys and girls point winners!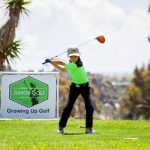 INSTRUCTION
David Emerick,PGA Member for 30 years  offers junior-specific instruction to boys and girls from 5 to 18 years old who are competitive junior players to kids who are just starting out.
David has been a PGA member for 30 years and has competed as a junior golf, raised a junior golfer, and has coached many top juniors.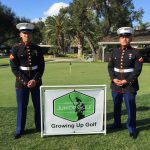 COMMUNITY
As a participant in the NCJGA events, your child will become a part of a supportive, social golf community of players, parents and volunteers that care for one another and gives back to our community through charity. 
Kids can do community service and be on the NCJGA Jr golf advisory committee and help others kids! 
Our Leader
David Emerick, PGA
"Coach Dave" has won numerous awards for his commitment to teaching Junior Golf in San Diego. His devotion to teaching young boys and girls how to "play golf for life" has been touching the lives of families since 1983.  He loves teaching beginners and has helped 50+ players earn spots on D1 rosters. 
Parents often ask David, "How and when do I get my kids into golf the right way?"
Support Our Sponsors & Become One!
OUR HOME COURSE
Goat Hill Park, Oceanside
Our World Class, Working Class home course, Goat Hill Park, in Oceanside, CA provides a loving, supportive backdrop to many of the Camps, Clinics and Tournaments on the NCJGA Schedule. 
Stay in the loop with the NCJGA!
Make sure you hear about all the great programs and opportunities that come along from the NCJGA. Subcribe to our mailing list for periodic updates and offers.