"It's All About the Kids!"
Tournaments, Camps, Clinics & Lessons
for All Skill Levels
WHAT IS HAPPENING IN THE NCJGA WORLD!!
CHAMPIONSHIP TOUR EVENT - PALA MESA RESORT GC
SCPGA - TOYOTA TOUR CUP (TTC) DIVISIONS - 3 Boys & Girls will earn a year long exemption to all SCPGA - TTC events! These are top rated national events and the most efficient way to earn AJGA stars and exemptions.
Divisions are Boys & Girls SCPGA - TTC (12-18) - Boys & Girls High School - Boys & Girls 10-13 - Boys & Girls 9 holes!
July 8th SATURDAY - Goat Hill Park Jr Club Championship - This will be a championship as well as a qualifier for the NCJGA Match Play Championship! Top 8 qualifiers in each flight will be eligible to play in the 1st annual Match Play Championship and be named King and Queen of the Goat!!
Thank you to our sponsor The Carlsbad Golf Center, Stone Beacon Capital, and Taylormade Golf, Linksoul, 18 Greens, Jack Collier Roofing, & Smith Bros Detailing....
Player of the Year points for all divisions.
Caddies and Spectators are welcome -  no caddies for the TCC Division
Sign Up as  Member - NCJGA 2017 Membership is open for boys and girls ages 7-18 all skill levels welcomed and encouraged to participate.
Summer Camps are coming up register online at the NCJGA site.
Click here for  NCJGA Calendar.
The NCJGA has held the Optimist Club National qualifier for the past 6 years we support this because we believe in the Optimist Mission Statement.
This year we had 14 players in the 16-18 flight the winner gets a paid entry fee which is $650 this is paid by the Optimist Clubs in San Diego.
First place went to Sebastion Winfield of Murrieta firing a fine round of 71 he bested Trip Morris of Studio City.
Boys 14-15 champion is Jackson Vause 73, runner up Jared Edillor 75, Nikko De Castro 75, Benjamin Gould 75, and Justin Leovao 77 all qualified for the finals.
Boys 12-13 winner was Go Nakatsukasa of San Diego 74 and Kenneth Zhang 74 both are going to Florida. Boys 10-11 champion is Michael Riebe 82 nipped Dylan Brack 83.
Girls 15-18 winner was Maylan Gerber of Carlsbad her score of 81 was good enough for first place and a trip to Florida for the National Championship.
13-14 girls champion is Estibaly Garcia 74 is headed to Florida along with Crista Izuzquiza 77 qualified for the Optimist National Championship. Karen Tsuru of Carlsbad fired a 70 and is packing her bags to win the National event!
Good Luck to all the players!
We post Great Pics & News in our Social Channels all the time.
Follow Us!
What Can You Expect from Your NCJGA Experience?
Click on your area of interest below to learn more.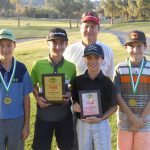 TOURNAMENTS
NCJGA has tournaments for Juniors ages 5 to 18-years-old who are at every level of play, from beginners who enjoy our Double Par +1 executive course events to Junior Golf Scoreboard 18 and 36-hole qualifiers for regional and national events.
The NCJGA also has SCPGA Toyota Tour Cup Year Long Exemptions for top 3 boys and girls point winners!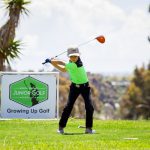 INSTRUCTION
David Emerick,PGA Member for 30 years  offers junior-specific instruction to boys and girls from 5 to 18 years old who are competitive junior players to kids who are just starting out.
David has been a PGA member for 30 years and has competed as a junior golf, raised a junior golfer, and has coached many top juniors.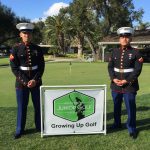 COMMUNITY
As a participant in the NCJGA events, your child will become a part of a supportive, social golf community of players, parents and volunteers that care for one another and gives back to our community through charity. 
Kids can do community service and be on the NCJGA Jr golf advisory committee and help others kids! 
Our Leader
David Emerick, PGA
"Coach Dave" has won numerous awards for his commitment to teaching Junior Golf in San Diego. His devotion to teaching young boys and girls how to "play golf for life" has been touching the lives of families since 1983.  He loves teaching beginners and has helped 50+ players earn spots on D1 rosters. 
Parents often ask David, "How and when do I get my kids into golf the right way?"
Support Our Sponsors & Become One!
OUR HOME COURSE
Goat Hill Park, Oceanside
Our World Class, Working Class home course, Goat Hill Park, in Oceanside, CA provides a loving, supportive backdrop to many of the Camps, Clinics and Tournaments on the NCJGA Schedule. 
Stay in the loop with the NCJGA!
Make sure you hear about all the great programs and opportunities that come along from the NCJGA. Subcribe to our mailing list for periodic updates and offers.