"It's All About the Kids!"
Tournaments, Camps, Clinics & Lessons
for All Skill Levels
WHAT IS HAPPENING IN THE NCJGA WORLD!!
BIG GOAT HILL NEWS!
In addition to the challenging par 65 course, the super fun par 54 Mini Goat, the Goat is adding The Kids Course.
Next to the already impressive grass driving range and large short-game practice area, Goat Hill is adding a beginner and kid-friendly super short course.  The holes will range from 25 to 60 yards and allow your beginner to learn the etiquette and behavior needed to really golf for life. Adults are welcome too...
Follow Goat Hill on Facebook and Instragram for more details an the latest photos and promotions.
NCJGA FALL SCHEDULE
9/10    Reidy Creek GC (ET) sponsored by Jack Collier Roofing             9/24   Pala Mesa Resort (CT) sponsored by Gold Medallion Awards   10/1     Oaks North GC (ET) sponsored by Linksoul                                   10/15   Woods Valley GC (CT)                                                                         10/29  Lomas Santa Fe GC (ET) sponsored by Del Mar Golf Center     11/5     Parent / Jr at Aviara Resort                                                                 11/19&20 Twin Oaks GC (CT) 2 day 36 hole event - canned food driv   12/3    St. Marks (ET) Toys for Tots                                                               12/16&17 Woods Valley GC (ET) Toys for Tots
Register online for all events.
18 & 9 hole flights ages 5-18 welcome to play.
Top 15 Active NCJGA members will earn points in ALL divisions.
Check each Tournament information page (TIP) for Spectators and Caddies.
Sign Up as  Member - Membership open to Boys and Girls ages 5-18. Membership is Annual good for 1 full year from date joined. Sign up NOW! 
Click here for  NCJGA Calendar.
NCJGA provides affordable and fun tournaments for kids just learning how to compete and veterans looking for extra practice. Come on out and feel the difference. 
MONTHLY JUNIOR MEDAL at Goat Hill Park GC                             Every 3rd Saturday we will hold a fun competition for the kids called the Monthly Medal...18 & 9 hole Divisions - Flights by age and skill level. Cost is like $20:)   
LOW SCORES FOR REIDY CREEK GC                                      Congratulations to Connor Herrea and his hole in one on #11                Boys 12-14  - 1st Kenneth Zhang (54) 2nd  Nikko De Castro (57)          Boys 9-11 - 1st Connor Herrera (54) 2nd Srinesh Namburi (55)            Boys 8 & under - 1st Keita Yobiko (28) 2nd Jaden Nacional (32)          Girls 12-14 - Alyssa Blankenship (68) 2nd Kiana Glossner (70)              Girls 9-11 - Ralie Nacional (55) 2nd Sky Pascual (59)                                Girls 8 & U - Saiya Mowji (57)
We are the local tour that nurtures the kids love of the game, confidence, and character, while learning to play in a tournament setting. Parents are welcome to caddy and be part of the family!!
GOLF WORKSHOPS                                                                                      This Holiday season we will be hosting some junior golf workshops at Goat Hill Park. They will include short game to lower scores! Improve iron play and hit more greens!  Drive it long and straight! On course play with the Pro!!
JUNIOR GOLF CONSULTING                                                                         Is a very exciting new venture for us here at NCJGA, with our growing alumni we see fit that we are the experts in junior golf and we can and we will provide parents with a ladder of success for you son or daughter whatever age they maybe. We have been advising parents and kids for the past 15 years and we feel it is time to start helping others fulfill their dreams!
The NCJGA events are geared toward getting the kids more tournament experience in a non threatening environment the events are all about the kids and always will be!
See ya at the Goat!!
We post Great Pics & News in our Social Channels all the time.
Follow Us!
What Can You Expect from Your NCJGA Experience?
Click on your area of interest below to learn more.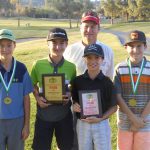 TOURNAMENTS
NCJGA has tournaments for Juniors ages 7 to 18-years-old who are at every level of play, from beginners who enjoy our Double Par +1 executive course events to Junior Golf Scoreboard 18 and 36-hole qualifiers for regional and national events.
The NCJGA also has SCPGA Toyota Tour Cup Year Long Exemptions for top 3 boys and girls point winners!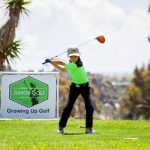 INSTRUCTION
David Emerick,PGA Member for 30 years  offers junior-specific instruction to boys and girls from 5 to 18 years old who are competitive junior players to kids who are just starting out.
David has been a PGA member for 30 years and has competed as a junior golf, raised a junior golfer, and has coached many top juniors.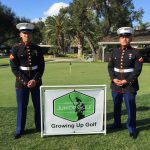 COMMUNITY
As a participant in the NCJGA events, your child will become a part of a supportive, social golf community of players, parents and volunteers that care for one another and gives back to our community through charity. 
Kids can do community service and be on the NCJGA Jr golf advisory committee and help others kids! 
Our Leader
David Emerick, PGA
"Coach Dave" has won numerous awards for his commitment to teaching Junior Golf in San Diego. His devotion to teaching young boys and girls how to "play golf for life" has been touching the lives of families since 1983.  He loves teaching beginners and has helped 50+ players earn spots on D1 rosters. 
Parents often ask David, "How and when do I get my kids into golf the right way?"
Support Our Sponsors & Become One!
OUR HOME COURSE
Goat Hill Park, Oceanside
Our World Class, Working Class home course, Goat Hill Park, in Oceanside, CA provides a loving, supportive backdrop to many of the Camps, Clinics and Tournaments on the NCJGA Schedule.